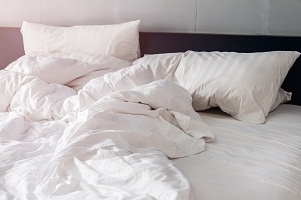 There's no doubt about it—bed bugs are seriously difficult to get rid of. The good news is that they don't transfer diseases from person to person. The bad news is that the knowledge thereof won't help you sleep any better. Bed bugs can be disruptive to those who are sensitive. Those who aren't may wake up with a series of itchy bumps from where the bed bugs had their latest meal. At Sleep Tight Pest Control, LLC, in Columbus, OH, we know that getting rid of bed bugs takes knowledge and perseverance. Here are some treatments available.
DIY Solutions
If you think you have bed bugs, you should look for telltale signs, including black dots that smear red when you try to remove them from your bedding. Most likely, you're looking at bed bug feces. If you have confirmed you're facing bed bugs, vacuum everything: the rugs, the mattress, the seams of the mattress, the box springs, the seams of the box springs, around the tag. Get your bedding into the washer and make sure you dry it at high heat. Encase your mattress and box springs in a plastic wrap and double up on it or get a bed bug-proof bag made specifically to keep bed bugs from getting into and out of your mattress. Use hot, soapy water to treat your bed frame and any other furniture near the bed. Bed bugs are small and can travel from room to room, so you want to be thorough and get them all.
Turn Up the Heat
Some places will raise the ambient temperature in your home to something akin to a Death Valley summer. Bed bugs are susceptible to and will die in high heat. However, this may not be the best solution if you have pets or items that are combustible at lower temperatures, and many times the heat cannot be evenly distributed enough to kill all the bed bugs.
Professional Pesticides
The best solution is to contact a bed bug extermination company in Cincinnati, OH, and find out what they recommend for your particular infestation. There are professional grade pesticides that may take care of the problem, especially since many over-the-counter pesticides are ineffective. When you get a professional to treat the problem, you won't have to worry about harming your family or pets, and some places will offer a guarantee in case the bed bugs come back. Do-it-yourself treatments may work, but they could just as easily be ineffective, wasting your time and money.