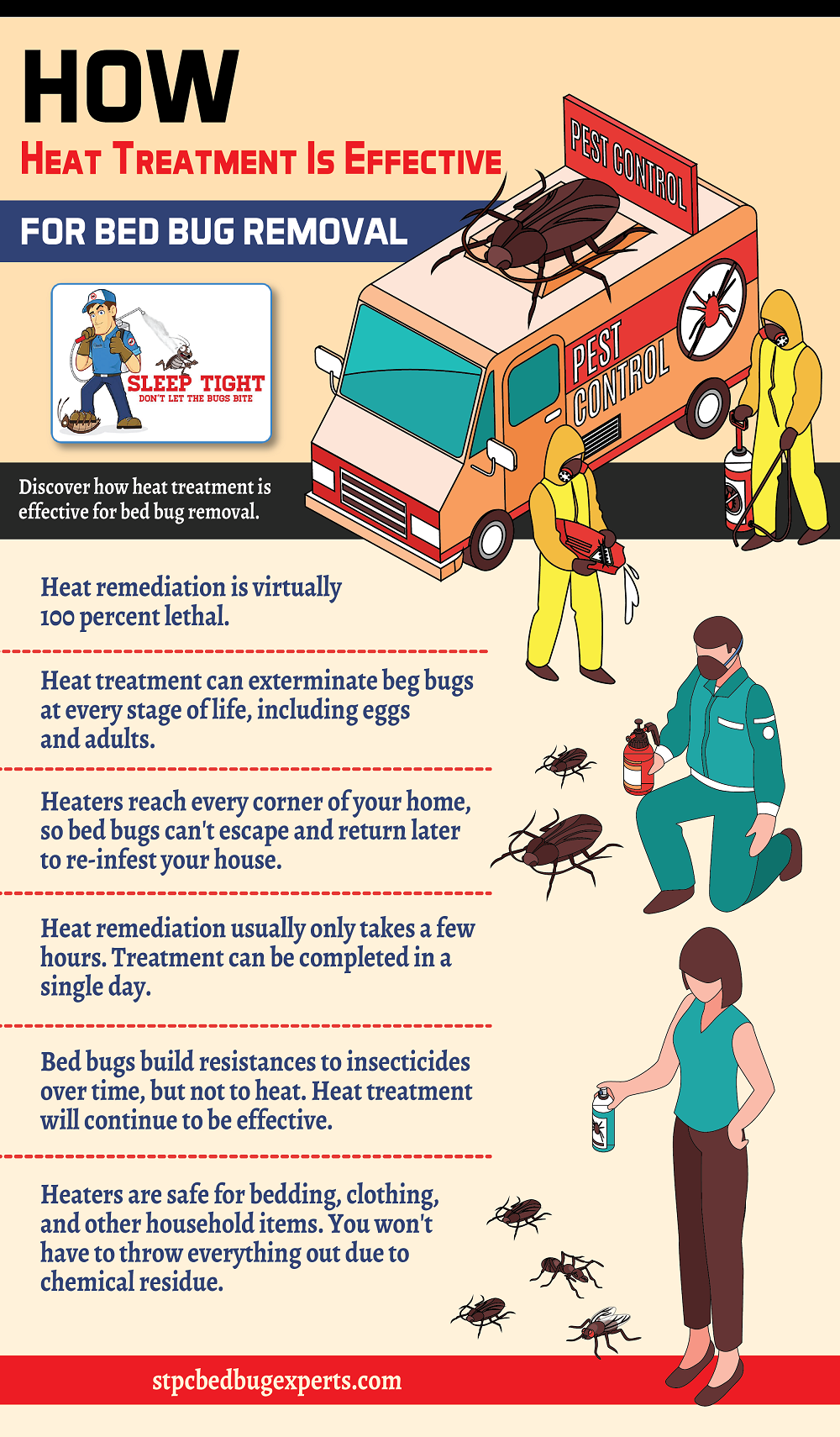 Sleep Tight Pest Control is based out of Hillsboro and is proud to serve both the Cincinnati and Columbus, OH, areas. They offer a wide array of bed bug extermination and control services. Heat treatment and traditional options are available. Sleep Tight uses K9 inspection, so that your home is thoroughly investigated. Bed bugs always do their best to hide, but they won't be successful. With 100 percent guaranteed results and a 1 day treatment, you can be sure that you'll be able to get things back to normal as quickly as possible. No one wants to entertain bed bugs for any longer than they have to, and Sleep Tight makes quick work of pests.
Chemical solutions have been around for many decades, whereas heat remediation is a more recent innovation. Learn how heat treatment is effective for bed bug removal, so you can return home to a pest-free environment.
Chemical
Insecticides can be effective, but research has shown that they typically take multiple applications. Only 6 percent of infestations are resolved with a single chemical treatment. Most homes will take several more chemical applications. While modern insecticides are far more environmentally friendly than the DDT of previous years, it's still not always recommended.
The two biggest issues tend to be cost and time. You can't return to your home until it has been cleared of the bed bugs, and it may take several days and multiple visits for the chemical remediation to be fully effective. Obviously, you'll be paying for that time, as well as the equipment and materials needed to complete the job. That tends to run up your bill. It's also aggravating and inconvenient to have to leave your home for such an extended period of time.
Heat
On the other hand, heat treatments tend to only take a few hours to complete. Lethality is virtually 100 percent, and heat remediation can kill bed bugs at every stage of life. You don't have to worry about any eggs that were left behind hatching and re-infesting your home.
Since it only takes a matter of hours, you can have everything handled in a single day. That means you can leave your house and return a little while later to a home that's free of bed bugs. That's much easier. Since the exterminators have a pretty good idea as to how long it'll take for a given-sized home, you often pay a single fee. That can make it easier on your bank account as well.